Fine Chocolate Industry Association - Event Information - Fine Chocolate Industry Association
Event Name:
FCIA's Cocoa Ecosystem Report: The Common Language of Fine Chocolate
Description: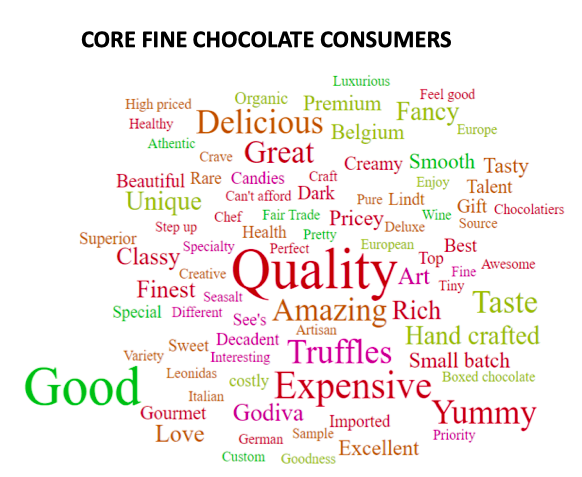 Have you ever been confused by industry terms used to describe fine chocolate and the value chain? How can your company better communicate fine chocolate and your supply chain to consumers? Can we begin as an industry to agree on a common language?
Join Kate Cavallin and Dr. Kristy Leissle on May 19th as they lead a 75 minute presentation, supported by FCIA company members and outside experts, to address these questions. They will share an extensive glossary of terms, vetted by industry and outside experts, in an important step to adapt a common language for fine chocolate.
During this session, Kate Cavallin will present an overview of the Cocoa Ecosystem Initiative: Why is this important to your company and how can it be used?
There will also be an Expert Panel Review of Glossary of Terms.
Meet the Panel
Albert Chau
is a co-founder of Fifth Dimension Chocolates, an online chocolate company based in London, United Kingdom, specialising in luxury handmade chocolates and caramel sauces. The aim is to create a sensory experience in fine chocolates, by combining classic and unusual flavours with premium, fine-flavour single origin cocoa. Since 2014, the company has won over 50 awards including International Chocolate Awards, Academy of Chocolate Awards and Great Taste Awards. He successfully completed the Level 3 chocolate tasting course at International Institute of Chocolate and Cacao Tasting (IICCT) in Peru in 2017, and is a regular judge at the Academy of Chocolate awards and Great Taste awards. In addition, he has a keen interest in sake and is a Certified Sake Sommelier. He also runs a consulting business in the healthcare industry, helping biotechnology companies in developing cancer therapies.
Alysha Kropf
is a Partner at Ecole Chocolat Professional School of Chocolate Arts. Founded in 2003, Ecole Chocolat offers a portfolio of programs for chocolate making that gives our students a deep understanding of modern techniques, recipes, equipment, efficient production, operations, marketing, quality assurance and business knowledge – all the skills needed to become a successful professional chocolatier or chocolate maker. Alysha holds a Master's Degree in Management Science from Queen's University. Growing up with fine chocolate since childhood, it was only natural it would become her passion and profession. In her role as Program and Marketing Director, Alysha is responsible for program development and management, as well as promotion and marketing for Ecole Chocolat's many programs, with expertise in consumer engagement, social media content, strategy and management.
Eduardo Somarriba
has a PhD in Biology (agro-ecology) from the University of Michigan, he is Professor in Agroforestry at CATIE, Costa Rica. His current field of research focuses on the optimal design and management of trees on farms, shade design and management in multi-strata agroforestry systems with coffee and cacao. Eduardo has been a top manager at various positions at CATIE, led many rural development projects in various Latin American countries, worked as a consultant, and has published more than 200 publications, including scientific articles, technical manuals, books, and educational materials for university students and farmers.
Kojo Hayford
is the publisher and editor of COCOA POST (
www.thecocoapost.com
), a cocoa and chocolate industry news portal based in Accra, Ghana. He is also the founder of Ghana Cocoa Awards, an initiative promoting excellence in the Ghanaian cocoa industry value chain. Kojo is also the Communication officer for the Cocoa Value Addition Artisans Association of Ghana (COVAAAGH).
Monica Rogan:
As co-founder and chocolate maker at Goodnow Farms Chocolate, Monica Rogan is passionate about crafting exceptional bean to bar chocolate using a sustainable, traceable and transparent value chain. She has spent years developing strong, direct relationships with cacao farmers and producers in Latin America ensuring mutually beneficial relationships and access to consistently high-quality beans while also educating consumers about the importance of ethical sourcing. As an active member of the Fine Chocolate Industry Association (FCIA) Monica participates in its Communications and Value Chain Committees. Monica has experience in large-scale construction and real estate development, holds a BS in Integrated Science & Technology from James Madison University and a MBA from Pepperdine University. When not making chocolate Monica enjoys traveling, gardening, finding and refinishing old furniture and doing science experiments with her children and husband. In 2021, Goodnow Farms earned a spot on Food & Wine Magazine's list of "The Best Chocolate in America." Their commitment to highlighting the unique flavors found in single origin cacao beans has resulted in numerous international awards, including gold at the International Chocolate Awards, Academy of Chocolate Awards and World Drinking Chocolate Competition.
Event Time:
12:00 PM - 1:15 PM Eastern