Event Registration - Fine Chocolate Industry Association
FCIA on the ground: TSIRO and MOCCA updates
12/21/2023 - 12/21/202312:00 PM - 1:00 PM EST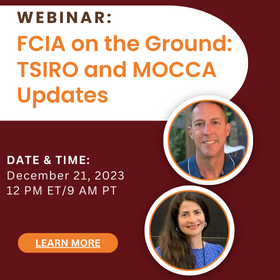 Join us on December 21, 2023, at 12:00 p.m. ET for a delectable journey into the world of fine chocolate with the Fine Chocolate Industry Association (FCIA). Discover the latest updates on FCIA's grant-based projects during our exclusive webinar, 'FCIA on the Ground: TSIRO and MOCCA Updates.' Hosted by chocolate experts Lauren Adler and José López Ganem, this event will feature insightful discussions with special guests Bill Guyton and Carolina Aguilar. Indulge your passion for fine chocolate and stay in the know about the future of this exquisite industry.

Hosted by: Lauren Adler & José López Ganem
Guests: Bill Guyton & Carolina Aguilar
Date/Time: Thursday, December 21, 2023 @ 12:00 PM ET/9:00 AM PT
Location: Online
Cost:
Members - FREE

Nonmembers - $40.00
Register now!